What room should I ramble on about today?
I did order some bedding last night. There was one set I really liked, and was getting ready to buy it but then I saw that it was dry clean only, and that is not something I want to deal with. I like to eat in bed, and if/when I spill anything on our comforter I want to be able to just throw it in the washing machine... not drag it to a dry cleaners.
So I bought this set from Macy's.
It was way on sale, so that was fun. It does not come with sheets, but it does come with the pillow cases PLUS 5 decorative pillows which I love, but Michael hates :)
But this set is NOTHING like what I thought I would get. I do like it, and I love leaves and trees and flowers and stuff like that so it's not surprising that I ended up with something like this. However, I really really really wanted something different. Something plain. Something grey.
I love grey so much lately... And I love ruffles lately... but only on certain things and it has to be the RIGHT kind of ruffle, if that makes sense.
So I about had a heart attack when I saw this at Urban Outfitters...
LOVE IT. Seriously. I am in love with it. It is soooo cute and pretty and adorable and... just freaking CUTE. If it had been a normal comforter, I would've bought it even though it's too expensive. But it's just a duvet cover, which means we'd have to buy the duvet to go in it... PLUS the ruffle pillows that I would have to buy seperately. So I'd be spending more like $300 at least on the duvet, the cover, and 2 pillows. And I want more than 2 pillows... and I'd have to find sheets that I liked to go with it.
Just too much work. And we have more important things to spend money on for the house than bedding... so I bought the leaf bedding, and I do like it, so... whatever.
BUT... I also knew that I was going to buy a ruffled shower curtain. I saw the shower curtain before I saw the bedding so I was already in ruffle mode, so that's probably why I freaked out about the duvet cover so much.
So here is Urban Outfitter's shower curtain that is just as adorable as the bedding.
Cute, right??? Cute enough to spend $80 on a shower curtain??? Ehhhh........ I was THIS CLOSE to buying this, too. It's almost too cute to resist. Almost. I decided against it.
Here's one from Anthropologie (I will be happy if I can ever afford to buy anything from this store... seriously. I love it all)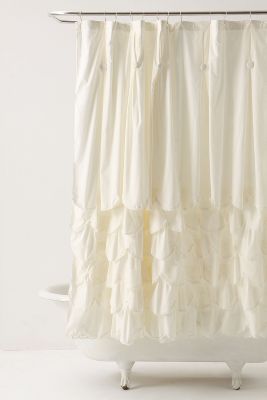 This one is $120... didn't even consider this one. But still had fun looking at it.
And here is another one from Target that is cute, but I like the bigger ruffles better...
I actually had this added to my cart on the Target website and was going to buy it, because I REALLY wanted a ruffle shower curtain, and I REALLY didn't spend to spend $80-$120 on a shower curtain.
But I didn't order it because I was still looking around, trying to see if there was anything else on the Target website that we would need so I could get up to $50 to get free shipping. Well the computer kept freezing and I was ready to go to sleep, so I left it until this morning.
Well somehow I missed this shower curtain yesterday when I went through pages and pages of search results for ''ruffle shower curtain''... but... I found one that was the same price as the Target one, but has the bigger ruffles like the Anthropologie and Urban Outfitters curtains!
Only $25 for this baby. I'm pretty excited!
I still like the Urban Outfitters one the best, but I saved $55 by getting this one instead... that's more IKEA money for me :) And I'm definitely ok with that.
I don't know what else to say about our bathroom, really. I'm not super excited about it honestly. I want to paint it. I don't like the burgundy/maroon color on the walls and ceiling. There isn't a ton of painted wall space in there because of all the tiling so it would take like 3 minutes to paint the whole room. So we're painting the bathroom I decided today.
It's a really small bathroom, but I'm completely fine with that. I don't think either of us has ever really thought we would need a big bathroom.
I just don't love the color at all...
There is nothing wrong with it, and at first I thought I really liked it... But I think a different color would be a lot more fun to look at.
And I'm not real sure what to do about that window in the shower... We're going to have to put another shower curtain there. I have been thinking about taking a plain white plastic shower curtain and making ruffles on it :) But maybe that's too many ruffles... I'm thinking it could be really cute though... if it would turn out at all like I see it in my head, at least.
I'm no good with paint colors, but I like these groupings of colors from Glidden:
I am really really clueless as to what colors look good with what. I don't know what would look good with that grey and black tile... I'm thinking something from the last group might be best??? But I have NO clue. I want it to look good to other people and not just me :) I want to like it too, obviously, but I don't want to paint the bathroom a hideous color and be totally clueless about it looking disgusting.
I have no idea!!!
I don't want to bug Michael about stuff like this right now. As we get a little closer to moving in I'll start making him help me with this stuff... but I want to have things narrowed down by then.
So help me!!
Do you like the green palette, the browns/purples palette, or the greys/blues palette? I know the picture of the bathroom is not super helpful, but it gives me a little bit of an idea I suppose.
We go for our home inspection on Monday so I'll be taking lots more pictures. Hopefully that will help us out with stuff like this.
We also need to start thinking about what color to paint the basement paneling. Ay yi yi.
So anyways... We've got the bedding figured out, and that's about it so far :) Plus the shower curtain now, and Michael's mom bought us some grey towels the other day... and a door mat.
Oh, and my uncle has agreed to build us a window seat for that upstairs nook!!! I'm really excited!!! So we'll have to measure that area on Monday and draw something up and send him the dimensions. I'm excited!!!! Michael wishes he could build it, but he has no tools... so that would be a little difficult.
Anyways, things are slowly coming along. I can't wait to just get in there!!