I don't do creative things enough to keep this blog I don't think, but I like to trick myself into believing that one of these days I will actually write in here more than once or twice a month.

Anywho.

I worked on my quilt a bit this weekend... Really only for a couple of hours spread over 2 days, but I got 6 pieces done, so that's good. And I guess I worked on it a lot before I was actually able to start sewing.

I spent hours on Friday arranging all of the pieces, and ended up not having nearly enough pieces cut for some reason... so I had to drag all of my fabric out and cut about 100 more strips. Blech.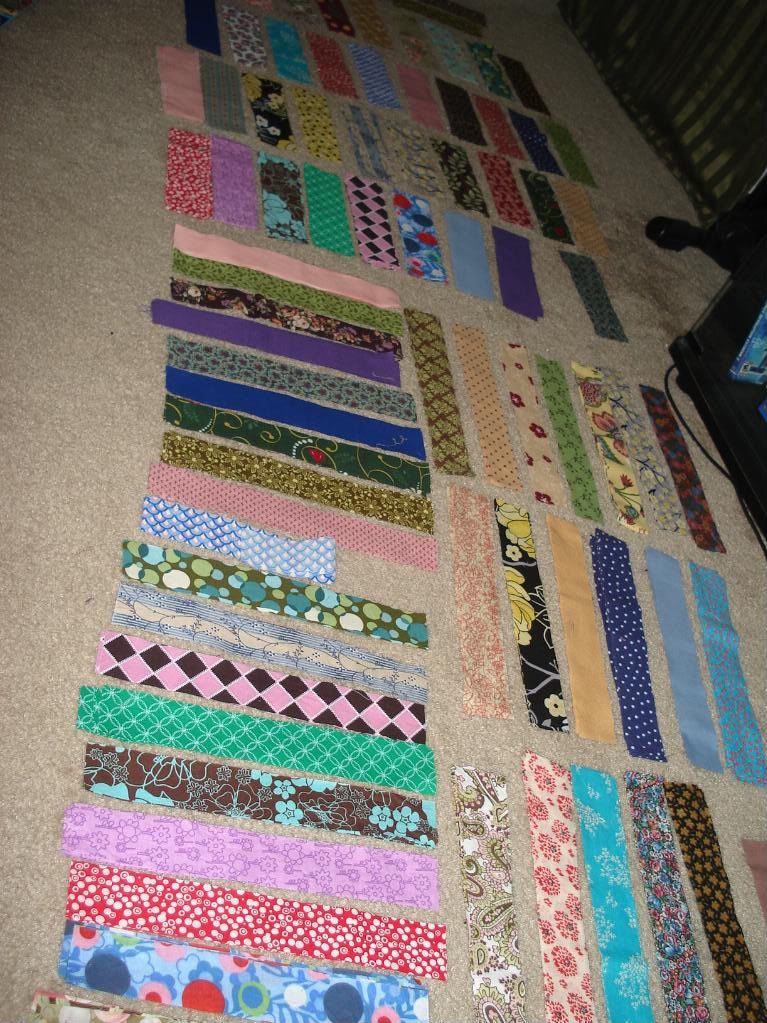 I layed all of the fabric out on the floor in piles, and just picked random strips for each square. I feel like there will probably be a LOT of repetition throughout the quilt, but that is ok with me.

I took 12 x 12 pieces of cardstock to arrange all of my squares on so that I would be able to stack them and save them. All of the center squares are Amy Butler, and everything else is just random scraps I had around here.

Here are a few arranged the way I want them and layed out on the scrapbook paper ready to be stacked and moved out of the way.
Little stack...
Big stack!

This picture makes me really happy for some reason... it felt SO good to get these done. Seriously.


All of the squares done and ready to be sewed.

Here are the 6 completed squares I did this weekend. I feel like these six are already very repetitive, but I've got 42 more to sew, and I'm thinking that the rest of them aren't quite this bad. These were the last ones that I picked pieces for and I think because I was at the end I didn't have as many fabric choices. So I'm not too worried. And even if the entire quilt is this repetitive, I don't really care.
I should've arranged these better for the picture, because even though I just said it wouldn't bother me... it's really driving me crazy that I put so many of the same fabric right next to each other. It's going to take me a LONG time to arrange them for the final layout. Yikes.
I also finished the painting I was working on, and my sister just informed me that the girls in her office loved it. So that makes me happy. I painted it for one of the girls she works with, but I'm glad to know that other people like it too :)
The flowers are actually a dark burgandy now, but I took this picture before I re-painted them. I think it probably does look better with the darker flowers, but you get the idea.
Oh, and here is a picture of baby Harper wearing her Amy Butler booties!! :)
They look pretty big on her in this picture, but I'm glad she is able to wear them!
She's so cute.
I need a baby.
The End.